The W3C mission is to lead the World Wide Web to its full potential by developing protocols and guidelines
that ensure the long term growth of the web. W3C is an international community where Member Organisation, a
full-time staff and the public work together to develop Web Standards, led by Web inventor Sir Tim Berners-Lee.
The Australia Regional Office is hosted by the Australian National University's College of Business and Economics and College of Computer Science and Engineering.
Local News
W3C starts Web Payment Standards work to help smooth online payment process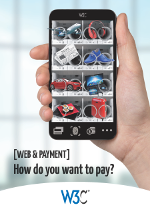 The World Wide Web Consortium (W3C) has now launched the Web Payments Working Group to help streamline the online "check-out" process and make payments easier and more secure on the Web.  The proposed standards aim to make web payment transactions simpler, faster and more secure, while supporting an array of payment methods.  Standardized APIs (Application Programming Interfaces) will enhance user experience while making it easier for Web developers to integrate existing and new payment flows into their applications.
Check out the charter (and supporting FAQ) for this new Web Payments Working Group, the official W3C press release (including testimonials from members such as Bloomberg, Deutsche Telekom, Digital Bazaar, ETA, Federal Reserve Bank, Ingenico Labs MAG, NACS, Qihoo360, Rabobank, Ripple and WorldPay.
World Wide Web Consortium selects Australian National University (ANU) to Host Australia Office
On 29 July, the World Wide Web Consortium (W3C), an international consortium of over 400 member organisations that work together to develop Web standards and guidelines to ensure the long-term growth of the Web, announced that its Australian office would be relocated to the Australian National University (ANU). more…
More